Meet the Goldblum Family of Friends' Central School
Friends' Central School has been the perfect fit for the Goldblums, giving six-year-old Owen "the best of the city and the best of the suburbs."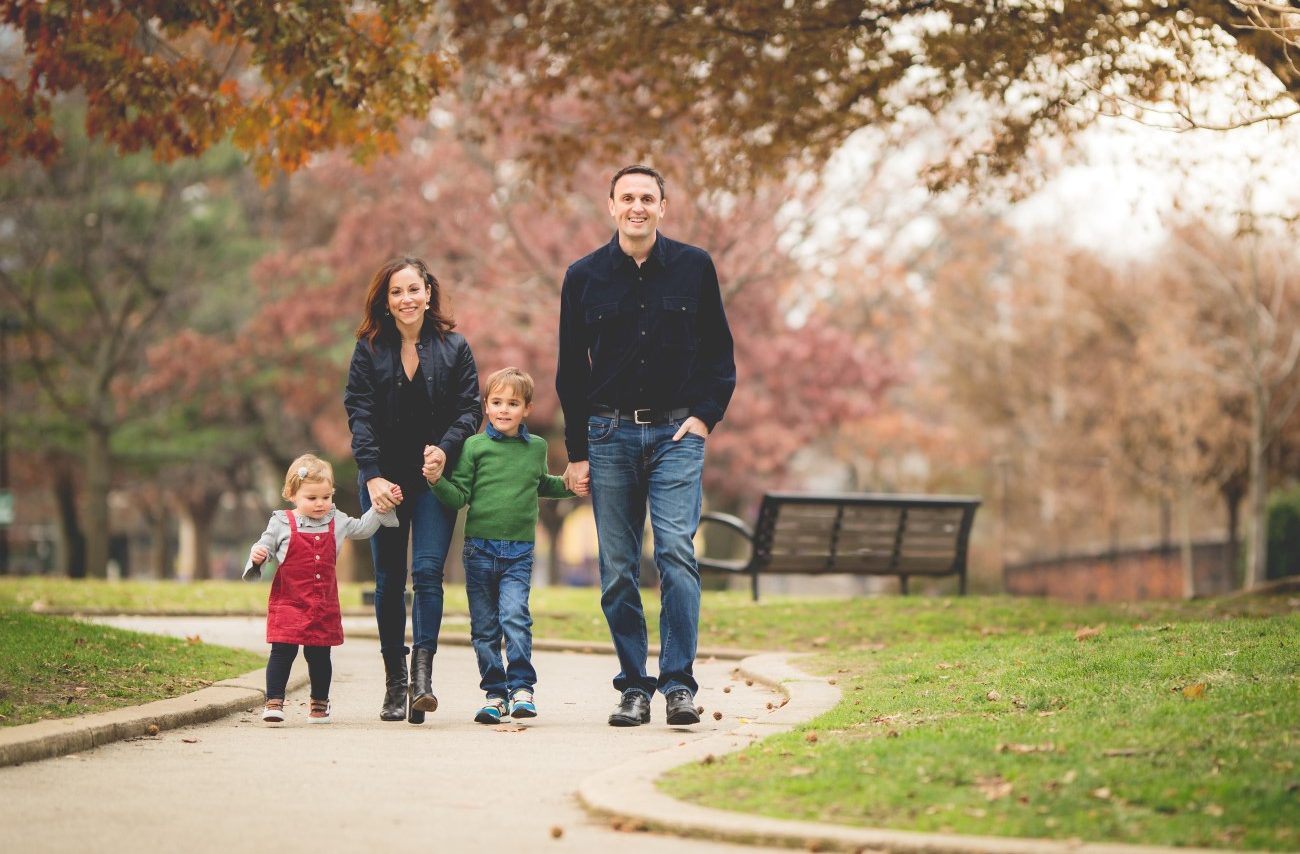 Ali and Josh Goldblum love their lives in Center City. With separate careers in design—Ali in residential design, and Josh in experiential design at Bluecadet—their lives are firmly grounded in Philadelphia. Starting a family was not going to change that, so when the time came to look for a school for their artistic and energetic son Owen, they had a lot of boxes to check off.
Friends' Central School has been the perfect fit for the Goldblums, giving six-year-old Owen "the best of the city and the best of the suburbs," Ali says. Friends' Central is an independent, coed Quaker school that operates on two campuses: the Lower School campus for students in Nursery through grade five – tucked away on a beautiful, green campus on Old Gulph Road in Wynnewood – and the Middle and Upper School campus for students in grades six through twelve on City Avenue in Wynnewood. When touring the school, Josh liked that the two campuses would provide some level of "transition" within the continuity of attending one institution from Nursery through high school.
Despite the beauty of the campuses, sending Owen to the suburbs for school was not the Goldblums' initial plan, Ali explained. "For us it was a really big decision to send him out of the city. We're not going to move to the suburbs—that's not on the table for us." Ali grew up in Philly, and she wanted to give her children that upbringing as well. But with Friends' Central's door-to-door bus service, giving Owen this suburban education while maintaining his city kid lifestyle has been seamless.
When looking at schools, the Goldblums were partly influenced by their creative backgrounds, and were especially impressed by the facilities and student work produced in Lower School's Ulmer Family Light Lab—a groundbreaking building with four different makerspace studios focused on Natural Sciences, Media & Computing, Fabrication, and Design. "The way they teach the cross-section of art and technology is really something we believe in. It's really important to us because the future—jobs—is going to be that," Josh told us.
The Goldblums also appreciated how interactive and dynamic the classrooms at FCS are. "When you walk into the classroom, you're just immediately drawn to the experience they want to cultivate," Ali described. Owen's class had many opportunities for pretend play, animals the class helped to care for, and even a hydroponic garden where the kids grow vegetables to eat. "They're teaching them all these different things about life. And Owen is excited for learning."
Josh concurred that Friends' Central's focus on the intellectual, spiritual, and ethical promise of its students on a personal level made for a warm yet challenging environment that has helped Owen thrive. "They're helping cultivate these interests, but it doesn't feel heavy or punitive. You get the sense that they care deeply and they're doing a very good job." Ali adds, "They really value parent feedback. They encourage it, listen to it, and implement it. They make us feel heard."
Ali and Josh both attended Friends schools growing up, and the Quaker roots of FCS were another strength. In an era where technology and distraction are constant concerns, Josh tells us, "having a moment of quiet reflection is not a bad thing to train kids into." The Goldblums also valued the school's way of approaching conflict, instilling inclusivity, and recognizing and nurturing that divine spark in each individual.
As Ali puts it, "You can't pigeon-hole what type of school it is. It doesn't have the reputation where it creates one kind of kid. They cultivate many interests, and the kids that go there are well-rounded. We want a kid who is interested in everything."
Has your child found the right fit at Friends' Central School or do you have questions for Friends' Central School parents?
Click here to register for an open house or sign up for a personal tour.
Photographs by Robert MacMillan Photography.