KatFit, LLC
KatFit specializes in uniquely designed fitness and nutrition programs for your individual needs, life demands, and fitness goals. Your body is different, and what works for one woman likely won't work for you.
KatFit, LLC
KatFit's Resilient Women's Strength Blueprint is designed for busy women and moms. This isn't a one size fits all program. It is uniquely designed to allow you to live your life guilt-free in a strong confident body without hours spent working out, restrictions, or extreme dieting tactics.
Kat customizes exercises and workouts to meet you at your current fitness level with the workouts designed around the equipment you have access to. Kat prides herself in having a working relationship with her clients where she ensures a program design that will fit seamlessly into their busy and demanding lifestyles.
---
Message from Kat:
My passion is to work with busy women and moms who want to establish consistency with their fitness habits, get strong, feel great in their bodies, and improve their relationship with food.  I hold multiple certifications that specialize in working with women who are 35+ who are either prenatal, postpartum, or perimenopause stage.
PROMOTION:
Mention Main Line Parent when you book your complimentary consultation call and 10% off your first month plus exclusive MLP Bonus!
---
2022 Main Line Parent Family Favorite Personal Trainer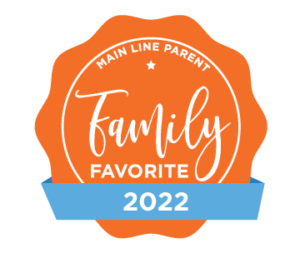 Family Focus Media has been building community with Main Line Parent and Philadelphia Family since 2010 and our annual LOVE Awards celebrate the BEST local resources for families, thanks to thousands of nominations like these:
She customizes fitness and health plans for every customer. She is always available for questions and advice. Her services are so valuable!
---
2021 LOVE Award Winner: Best Personal Trainer
"I've just started working with Kathrine, but she's already been such a supportive presence. Her approach allows and encourages all approaches to exercise and nutrition goals - it was so important to me to work with someone who would support my goal of simply having consistency and healthier habits, not focus on weight loss. Kat is behind me and has built an encouraging community for moms. I love that she has a focus on fitness for mothers and rebuilding our strength and supporting our posture postpartum."  - Ellen V.
"Kat is great! She is helping me bounce back from having a baby by creating plans built around me, my needs, and building back my core. She also helps with meal planning. She's also great by helping me understand to give myself grace as a new mom. There's no shaming here, just knowledge and personalized plans! " - Kathleen S.
"Taking manageable, attainable steps to be healthier has helped me mentally keep going. This is such a unique program from anything I've ever heard of. For people like me who lack confidence working out, especially in front of others, this is absolutely the way to go!" - Shalako L.
---
2020 Family Favorite for Personal Training
"Kathrine has been transformational in my life and my thinking about fitness. I started working with her because my core strength and fitness level overall had taken a nose dive after donating a kidney to my daughter and working through all of the components of her care. I had put myself last for many years and it showed. Kat has helped me strengthen my core and my body overall without any judgement. She is encouraging, kind, and wise. While accompanying my mother on a trip recently, and hauling and hoisting all of our luggage, I was shocked to notice how much easier it was to do than it had been the previous year. I'm feeling better about myself and excited about continuing to grow." 
Kat genuinely cares. She wants to partner, learn your goals and commit to success. I needed a very flexible program and custom to my needs. Kat reassured me we could do that. She'll show you, but you have to do your part. Show up, listen, and do the work. You will see improvements like better sleep and a decrease in aches & pains, plus those small tweaks in everyday routines positively impact fitness.

I began training with Kathrine while six months pregnant and she made me feel incredible, powerful, and fierce! I wanted to gain strength and tone to prepare for my delivery and to set me up for success post-partum. Kathrine was available every step of the way and even after giving birth. Now four months post-partum, I am gearing up to begin working with Kathrine again and I cannot wait!