Local Shops Know – It's a Philly Thing!
Whether you bleed green or have recently jumped on the flying bandwagon, these shops are ready with as much gear as your closet can hold as we cheer our Birds on to the Super Bowl!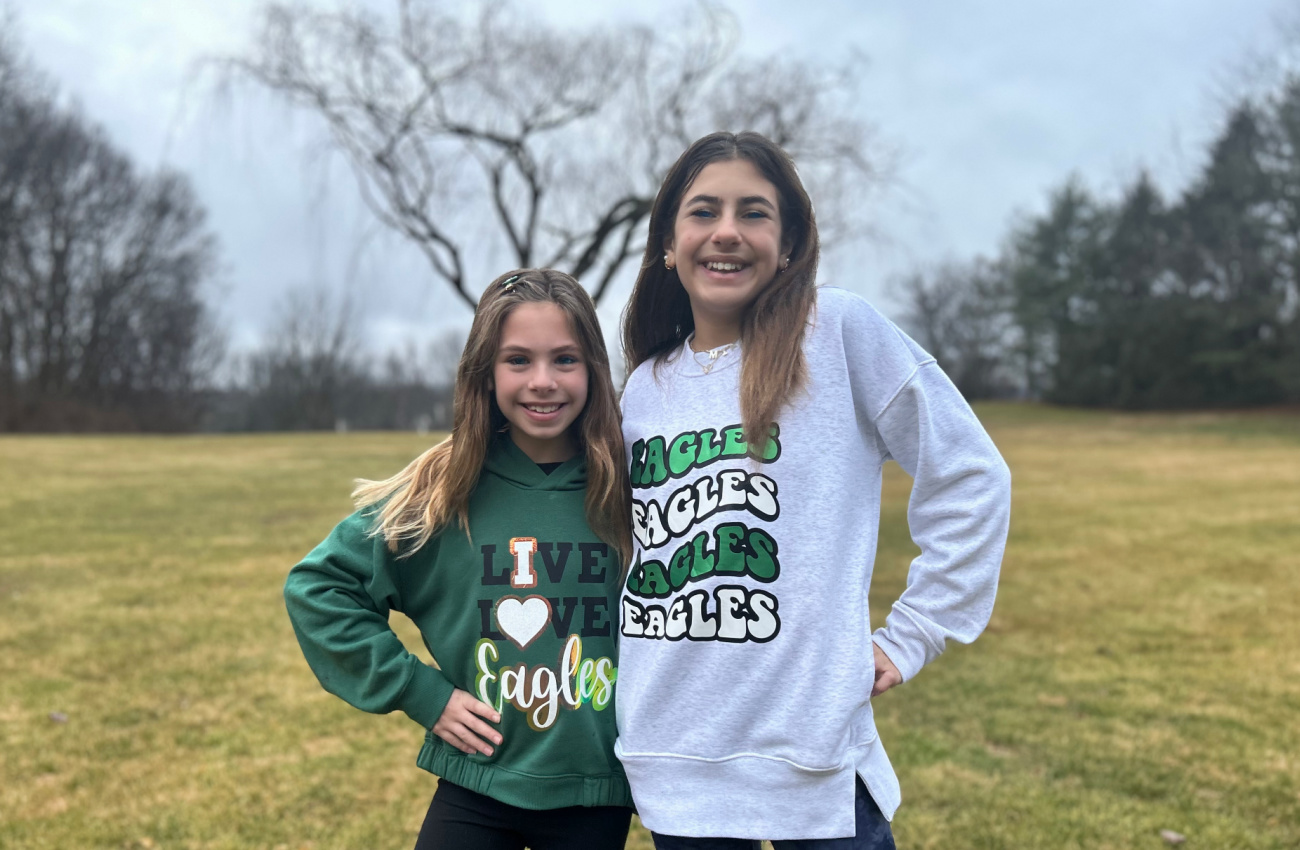 It's only been five years since we last saw the Eagles fly off to the Super Bowl as the NFC Champions and here we are again! Repetition surely has not dulled the excitement and all over Southeast PA you can feel the buzz of energy, people are happier, and everyone is ready to celebrate. Becoming the champs has also spurred a buying spree- everyone wants to rep the home team! If you need to enhance your swagger with some new green gear here's where you can find it (or even have it custom-made!).
It's fun when I get a write a post and include people I actually know. A dear friend recently opened shop via Instagram for the most adorable custom clothing. Her designs are so on trend and she even has glittery and holographic vinyl for the most EXTRA of customers (aka, my younger daughter, the one on the left in the header photo). As soon as this mama opened up shop I placed a custom order knowing my girls would want something fresh for all the Eagles spirit days they'd be having at school. I can't wait to see what she comes up with next! I moved this business to the top because my girls are wearing Sweet Darling and Co designs in the featured photo and I keep getting messages asking who made their sweatshirts. Since I bought them from Sweet Darling I thought she could have the top listing!
Shop In-store
128 East Lancaster Avenue, Wayne
The Blue Béret is an adorable shop in the center of Wayne that carries whimsical apparel, gifts, and more for women, babies, and children. Their Facebook page says that new Eagles gear arrived this week, so don't miss out! If you buy Eagles gear here, then tag them on social media in a pic while wearing what you got, you can win a $25 gift card!
690 West Dekalb Pike, King of Prussia
On the lower level of the "Court" side of the King of Prussia mall.
If you could find the Santa photo spot outside of Bloomingdales over Christmas then you won't miss Custom Creations' new location in the King of Prussia Mall. Custom Creations has reopened their shop and it couldn't be more timely. Prior to their closing this was our family's go-to spot for custom printed tee shirts, sports related gifts, and more. The owner couldn't be nicer, and their products are high quality and come in sizes for everyone from infant through adult (some items available through 4XL!). For the last Super Bowl my kids were able to choose their own designs and walked out with Eagles tees with logos, Philly Dilly, and Beat the Patriots printed on them. We'll be headed back because I know they'll rock the "It's a Philly Thing" swag, too! You can also shop online.
1991 Sproul Road, Lawrence Park Shopping Center, Broomall
Find all the DelCo and Philly sports related apparel you could ever want, plus pennants, flags, and basically any item that can be branded with a logo. This place is a super store!
110 Fayette Street, Conshohocken
I'm trusting the Main Line Parent Community on this one. They tell me this place sells Eagles gear, and if you check their Facebook page that is true. But their website? Shoe store. That's why I have linked their Facebook page. I know Eagles fans wouldn't lie to me about where to find my green so we'll trust Facebook this time. The pics on there look awesome!
31 West State Street, Media
More than just an arcade, this downtown media teen friendly HOT spot has some super cool merch. Pick up a branded tee or hoodie, and don't miss out on your change to get an Eagles green Delco tee shirt. It may not say Eagles on it, but it says Delco… and they go together like… Eagles and Delco! I also can't help but give Game on State a shoutout here, because just like their arcade is both accessible for ALL and they have incredibly inclusive hiring practices, their shop also has a purpose. Everyone is welcome at Game on State.
3607 Chapel Road, Newtown Square
For anyone who ever thought that "classy" and "football gear" didn't go together, you haven't been to Grace and Kate Boutique. Jewelry, sweatshirts, retro-looking tees, and so much more will set your game day attire apart from what everyone else is wearing!
3551-B Rhoads Avenue, Newtown Square
Kids Sweet Repeats is a consignment shop that exclusively takes brands such as Janie and Jack, Ralph Lauren, Lilly Pulitzer, Mini Boden, Crewcuts, Matilda Jane, Vineyard Vines, Tea Collection, Hanna Andersson, Ivivva, Under Armor, etc (no Old Navy or Target) so you have a chance of finding Eagles gear for sure, but what you don't want t miss right now are their BOWS! You also should follow their Facebook page because they share some cool stuff upon arrival, for example, right now they have some American Girl stuff!
575 Lancaster Ave, Berwyn
If you thought Kramer Drive was only a stationery shop, you were sorely mistaken. This shop is like the definition of small but mighty. It's not very big but they have everything you could ever want when shopping for gifts. Local themed items, cozy sweaters, artsy things, and (you guessed it!) even Eagles gear! Their displays are so well designed that you cannot help but want to buy it all. They have items in kid sizes and women's. Get yours before it all flies out the door! (Get it?)
227 East Lancaster Ave, Wayne
Perhaps you don't need branded Eagles gear but you do need a gorgeous green sweater, or the perfect hostess gift to bring to a Super Bowl party. Then Louella is your spot! They carry a platter that says, "Eagles are on. Serve yourself" which sounds like something you'd hear during ANY Eagles game in our house! They even carry a gorgeous beaded clutch with the Eagles logo on it, but I'm not making any promises that this will be in stock so you better get there fast!
105 East Lancaster Avenue, Wayne
On the homepage of this shop's website they show the "No one likes us, We don't care" pom pom knit hat, which I had bought for myself after that epic speech given by Jason Kelce at the 2018 Eagles Super Bowl Championship parade. My husband hates this hat… maybe that's why I love it so much? Regardless, I can't help but have an affinity for this shop because they showcase my favorite Philly-related outdoor gear! (Besides, my dog chewed up my Superbowl Championship pom pom hat, so I have no choice but to wear this one!) Find crewneck sweatshirts and baseball caps with Go Birds embroidered on them, as well as cool gifts like bottle openers, artwork, and more. This shop is not to be missed!
719 Montgomery Avenue, Narberth
My Kids Korner is THE SPOT for kids to gear up from head to toe. If your kid wants to look fire then you cannot skip taking them to this Narberth shop. Tie dye Eagles hats, light up tutus (I'm not kidding), hoodies, and more are all in stock and ready for your football-fashionista!
106 East Lancaster Ave, Wayne
Fact- Wheelhouse is a sports memorabilia, collectibles, and sports card store. Also a fact- sharing the retail space is Shibe Vintage Sports! Their retail spot closed in the KoP Mall and left a gap in the market for me to buy the softest Philly themed vintage-style tee shirts I've ever touched. Their unique and witty designs, combined with the quality of their items really sets them apart. Shirts with Veteran's Stadium, Jalen Hurts' face with Love Hurts, and other retro designs can all be found here!
Shop Online
I think the name of this online shop is the ultimate in Philly-centric play on words. Philadelphians are so rooted in their pride, and the Blue Route snakes from the suburbs straight down to the city, telling you all you need to know about BlueRooted. A shop that features Philly gear filled with pride! And of course, Eagles and Delco gear. As they say, "Delco is for the Birds!"
Meet Nicole, a mom who works in the medical field and loves to craft in her free time. Her designs are HOT and if you want any chance of having something in time for the big game you should order NOW. But even if you're late, you can wear your Eagles pride all year long!
There's a hold on orders right now, but keep an eye out for when Kyle opens back up! Kyle's Custom Creations makes all things vinyl and sublimated (this is according to her FB page, and I had to look this up – it means the design is entirely diffused into the fabric, learned something new today).
Based in Downingtown, this mother-daughter duo handmakes leather earrings for everyday and holidays. Of course, the Eagles are included! There are regular footballs, green footballs, Eagles Green teardrops, and Eagles logo teardrops. Once I saw these I had to order myself a pair!
Operating under the belief that there are no "boys" fabrics or "girls" fabrics, owner Lindsay Gradel has been making skirts, dresses, and more out of the most amazing fabrics I have ever seen for many years. No matter what occasion you're celebrating or what hobby your child has, Sew Much Cooler has something for you. Their Eagles skirts have sparkles and they even have some really awesome tees!