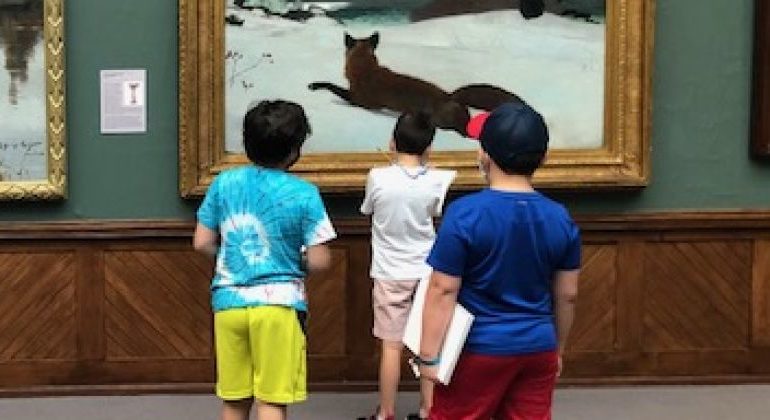 Families and educators! Join PAFA for special programs filled with interactive art tours and lessons. Visit the first and oldest art museum and art school in the United States and explore its internationally known collections of American art during dedicated hours. Activities facilitated by professional museum educators are designed to serve homeschools, co-op groups, and individual families, as well as locally attending cyber school students.
Each program offers an engaging theme and focuses on the enhancement of academic curriculum highlighting literacy, observation, critical thinking, communication, and social skill development. This program offers a great opportunity for interaction between different homeschool groups in a creative setting. Space is limited to 20 participants; please register early.
11/04 & 11/10 Tour: Who Are We?
In connection with the special exhibition Making American Artists: Stories from the Pennsylvania Academy of the Fine Arts, 1776–1976 and in collaboration with the Free Library, this tour will explore the genre of portrait making and looking at how portraits are created to express ideas and personalities. Includes a reading of the book Beautiful Shades of Brown: The Art of Laura Wheeler Waring, by Nancy Churnin.
11/04 & 11/10 Art Lesson: Beautiful Shades!
Learn how to construct a portrait using colorful techniques in traditional and innovative ways. The lesson is taught by a current student of PAFA!